Linda & Dan Merchandise:
CDs | Instructional Materials
Notice: to order any of our products please contact us by email.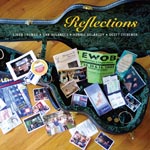 Reflections
With the release of Reflections, Linda Thomas and Dan DeLancey have forged and strengthened their well-known traditional sound by revisiting some of their favorite instrumental selections recorded with support from bassist Ronnie DeLancey and mandolinist Scott Tichenor. Relections is a project sure to please enthusiasts of Traditional Acoustic Music.
Price: $15.00

Selections:
1. The Big Scioty
2. Patty Ann
3. Memories Waltz
4. Shenandoah Falls
5. Bonaparte Crossing the Rhine
6. Hector, the Hero/Flowers of Edinburgh
7. The Girl I Left Behind
8. Blackberry Blossom
9. Greenleaf Fancy
10. Uncle Herman's Hornpipe
11. June Apple
12. Denver Belle
Musicians:
Linda Thomas, Hammered Dulcimer, Keyboard & Autoharp
Dan DeLancey, Acoustic Guitar
Ronnie DeLancey, Electric Bass
Scott Tichenor, Mandolin
Brenda Allen, Cello
Kudos:
"An absolute delight! Linda's hammered dulcimer and Dan's guitar blend together seamlessly on a great selection of contemporary and traditional tunes. Linda is a tasteful dulcimer player and Dan is an excellent guitar player. The combined sound is so very smooth that one tends to forget just how difficult some of these tunes are to play on any instrument."

Dulcimer Player News on Trio
[ Go Back ]