The Frosty Morning Trio.
Linda Thomas (Hammered Dulcimer/Keyboards/Vocals) and Dan DeLancey (Flatpick Guitar/Vocals) knew they had a special style when they began playing instrumental music over 25 years ago; since then they have taken their music throughout the U.S. and Europe. Whether adapting Appalachian and Celtic fiddle tunes to their instruments or adding their close vocal harmonies to well-known bluegrass and old-time standards, this group has become a favorite at music camps and festivals. Walt Michael says, "They perform with an ease which belies the difficulty of mastering such intricate and wide-ranging music." They have shared billing with the ALISA JONES BAND, STEVE KAUFMAN, NORMAN BLAKE and DOC WATSON and have played the prestigious WALNUT VALLEY FESTIVAL in WINFIELD, KS and both the IBMA in Louisville and the EWOB in The Netherlands.
Linda and Dan are available to perform as a duet and are also joined by Rick Desko (bass) to form The Frosty Morning Trio.
Click image below to download a printable Frosty Morning Trio poster.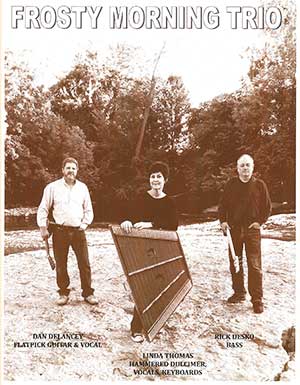 Linda holds a degree in Music Education and a Master of Arts in Teaching; her workshops are offered in many locations, including the Ozark Folk Center in Mountain View, AR and Davis and Elkins College, Elkins, WV. Linda's instructional materials for Hammered Dulcimer are published by Mel Bay Publications, Inc..

Dan has been playing guitar a great part of his life with earliest influence from the recordings of Doc Watson. Dan's achievements include many contest titles in the flatpick style. Dan was profiled by Flatpicking Guitar Magazine (Nov/Dec 1997 and July/Aug 2001; in addition, FGM has featured one of Dan's many arrangements on their Flatpicking '98 CD. Dan Miller, FGM editor, calls Dan "a master arranger".

Rick Desko (bass) provides the foundation for Linda and Dan to form THE FROSTY MORNING TRIO; Rick is a veteran musician having played with many Kansas and Colorado bands and the Winfield Festival. In addition, Rick's musical background includes work in producing and hosting radio programming.
Rick also plays bugarija with Kolograd.