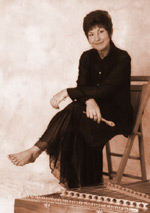 Hammered Dulcimer Player/Instructor/Recording Artist
Linda Thomas' musical career began at age seven when she started playing piano. She eventually earned a degree in music education at Southwest Missouri State University and has taught music at the elementary school level for 35 years. Linda became intrigued by the hammered dulcimer after hearing it played in live performance at the Walnut Valley Festival in the 1980's. "My formal training consisted of maybe five lessons to learn the tuning and set-up of the dulcimer; however, I consider myself pretty much a self-taught player." She quickly mastered the instrument and has become well known both in the US and in Europe as a performer, recording artist and instructor.
Teamed with guitarist Dan DeLancey since 1980, the duo has recorded twelve albums and Linda has published several instructional books with arrangements for hammered dulcimer. Linda also facilitates workshops for beginner to advanced players and has been a competitor at major dulcimer contests. She took 2nd place in the Southern Regional Hammered Dulcimer Finals at Mountain View, Arkansas in 1994, 1995 and 1996. In 1997 Linda was a finalist in Lone Star State Dulcimer Competition and took first place there in 1999. In August, 2001 she was first place winner in the Scottish Highland Games Hammered Dulcimer Competition at Denver, Colorado.
"Linda Thomas demonstrates a great ability and mastery over the hammered dulcimer. She weaves the melody, chords and embellishments into a tapestry of music. She has the ability to make a fast fiddle tune bounce and the sensitivity to perform slower pieces that sing." Dana Hamilton
"Linda Thomas is a solid and rhythmic player who really understands the intricate style of group playing. She knows how to make the melody stand out in a group and is equally at home on back-up playing." Rick Thum
"Linda has the ability to forge a comfort zone including American music and tunes from afar; this is done with an ease which belies the difficulty of mastering such intricate and wide-ranging music." Walt Michael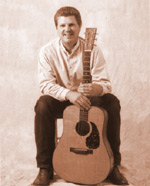 Dan's exposure to Old Time String Band and Bluegrass music began at an early age listening to his mother, grandparents, and uncles play music on various stringed instruments. "My grandmother kept a huge stack of old 45 rpm records...people like The Carter Family, The Blue Sky Boys, The Stanley Brothers and many more." He learned to play rhythm guitar from those recordings and his interest in flatpicking lead guitar was sparked when he heard Doc Watson and Dan Crary playing on a public radio station in the 1970's. Twenty years later Dan has gained recognition as a seasoned flatpicker known for his fluid style and original arrangements, some of which have appeared in Flatpicking Guitar Magazine and Mel Bay Publications.
Dan has performed and recorded since 1980 with hammered dulcimer player Linda Thomas and recently released a solo CD showcasing his flatpicking skills titled "A Few Favorites."
"Listening to him play, it is certainly evident that arrangement is something Dan does very well. His arrangements are interesting, exciting, tasteful and well performed." Dan Miller, Editor, Flatpicking Guitar Magazine
In addition, Dan facilitates flatpicking workshops for beginner to advanced level players and has been a formidable flatpick contest contender as evidenced by the long list of awards he has received:
1983 1st Place
Hugo, Oklahoma

1984 Finalist
1996 1st Place
Missouri State Guitar Championships
Camdenton, Missouri

1985 1st Place
1987 Finalist
1988 1st Place
Oklahoma State Guitar Championships
Langley, Oklahoma

1988 1st Place
1992 1st Place
Kansas State Guitar Championships
Lawrence, Kansas

1996 Finalist
1997 Finalist
Colorado State Guitar Championships
Lyons, Colorado

1997 2nd Place
1998 2nd Place
Steve Kaufman Guitar Contest
Knoxville, Tennessee

1998 1st Place
26th Rocky Mountain BG Festival
Flatpicking Championship
Lyons, Colorado

For a more complete biography read Flatpick Profile: Kansas City's Dan DeLancey in the Nov/Dec 1997 issue of Flatpicking Guitar Magazine.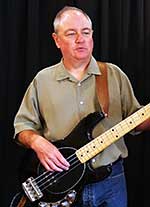 Rick Desko (bass) completes the sound with Linda and Dan to form THE FROSTY MORNING TRIO. Rick is a veteran of many Kansas and Colorado bands and his smooth and solid bass playing provides the foundation for the group.
Rick served as Co-Producer and Co-Host of The Flint Hills Special, NPR affiliate KANU/FM in Lawrence, Kansas from 1982-1987. In addition, Rick is a Winfield veteran, having played banjo with the Bluegrass Attack in 1976.
Rick also plays bugarija with Kolograd.